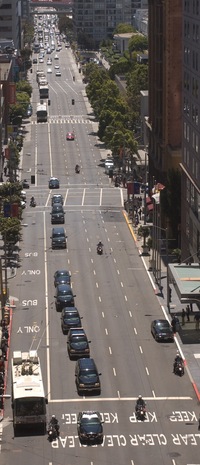 I have been living and working in downtown San Francisco for almost eight years now. Until a month ago, my office window (right) used to overlook Third Street and the Moscone center. San Francisco is a popular convention destination (one wonders why proctologists seem to prefer it to, say, Detroit) but Macworld Expo is definitely the biggest show in town. Restaurants and hotels are taken by storm, taxis become scarce, traffic gets even snarlier and the lines at Metron eateries cross the threshold of ludicrousness. So here are a few tips for Macworld attendees to have a better time and not caught in tourist traps.
Transportation
Driving in San Francisco is a non-starter. Traffic is horrendous, parking is scarce and you would lose far too much time just getting around. SF Muni is a pretty good public transport system (at least by admittedly paltry US standards) and their 1, 3 or 7 day Passport passes are good value.
Cars are mostly useless inside the city, but nice if you want to drive to make a Fry's run or a day trip to Marin across the Golden Gate. If you must drive, the friendly folks at Reliable Rent-a-Car will give you decent rates on Toyotas. Until I bought a car last month, they were my go-to place for when I needed a car.
Lunch
San Francisco has the best food in the United States, but you wouldn't know if from the overpriced eateries in a three block radius. The Firewood Cafe and Buckhorn Grill in the Metron are actually reasonably decent, but the throngs of convention-goers mean long lines. Mo's Grille has excellent burgers (I recommend the aptly named "Belly Buster"), and since access to it is a little tortuous, you have a fighting chance (it is literally just above the Moscone South).
Ranging a little further, Nova has decent burgers and a lovely lobster quesadilla, and the new Westfield Mall three blocks to the west has a decent food court. Some good local chains are Bistro Burger, S.F. Soup Co. or Café Madeleine (official birthday cake purveyor to Kefta).
That said, the best lunch experience is to take the historic F line streetcar to the Ferry Building Marketplace with its wide variety of gourmet food stores and eateries. I heartily recommend the clam chowder at Ferry Plaza Seafood (it used to be my Friday lunch of choice) or the eclectic fare at Boulette's Larder. Chocolates from Michael Recchiuti or fresh-pressed olive oil from Stonehouse make for great (and edible) souvenirs.
Staying hydrated is important when you expect to spend an entire day on the show floor. There is a Whole Foods store a mere block away where you can buy any required provisions.
Dining
Dining in San Francisco is an embarrassment of riches, it would be a shame to settle for overpriced hotel food. A word to the wise: most of the better places are hooked into the OpenTable reservation system which makes finding a good place with availability a much less hit-and-miss affair. This year Macworld coincides with the annual Dine About Town event where participating restaurants will offer specially discounted menus.
Equipment
Murphy's law will strike at the worst possible moment. If you need help with your Mac, the geniuses at the San Francisco Apple Store (or the smaller Chestnut Street and Stonestown locations) can help. It's also good to keep in mind the Apple stores all offer free WiFi connectivity.
If you need commodity spare parts like a USB hub in a hurry, Central Computers is a mere block away and carries a wide assortment, albeit PC-centric.
If you are an attendee and have questions I have not answered, please feel free to email me, my contact info is at the right.